Our Ethical Standards
As a global company, we are subject to the highest standards of ethical conduct and behavior for our staff.
Our Factory Code of Conduct demonstrates that we take our legal and ethical responsibilities for our staff very seriously.
We work and communicate with our manufacturing offices daily and have specially hired staff to monitor the conditions of our factories.
Our Employees
The safety and wellbeing of all of our domestic and overseas manufacturing staff is our main priority.

We have quality controllers hired specifically to assess the working conditions for our staff to make sure they are working in safe conditions, working regular hours, get breaks when needed and more.
Our Values
We only partner with small family run factories who uphold these safe and good working conditions for all staff.
We seek to work with smaller organisations to support these corporations and families running businesses. Naturally, these companies produce less, contributing to the slow fashion movement.
Our independent quality controllers inspect all our manufacturing as it comes off the production line to ensure quality is never compromised. 

GARMENT SOLUTIONS PTY LTD ATF
A&A HALKIOTIS FAMILY TRUST
This factory must comply with local and national laws related to labour practices and ensure that workers are afforded the highest level of protection, whether that be under local law or the following principles, which should be read in conjunction with the ETI Base Code outlined in the Appendix. 
All foreign and migrant workers are engaged in compliance with immigration and labor laws in the specific country of employment.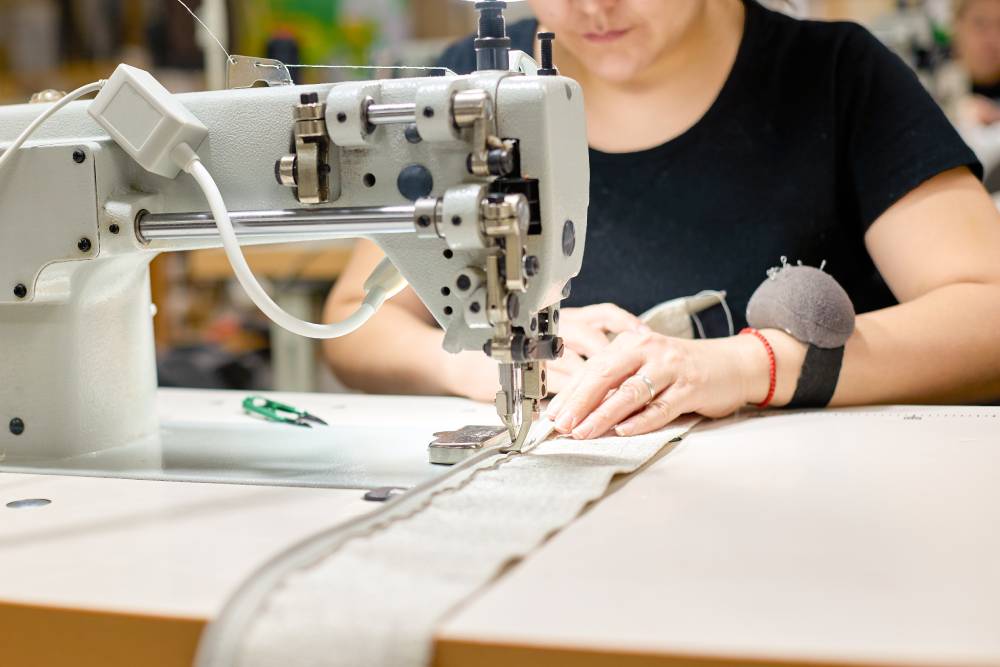 We Ensure That...
Employment is freely chosen
Freedom of association and the right to collective bargaining is respected
Working conditions are safe and hygienic
Child labor is not used
Living wages are paid
Working hours are not excessive
No discrimination is practiced
Regular employment is provided
No harsh or inhumane treatment is used in addition to provisions made in the ETI Base Code,
Garment Solutions Pty Ltd does NOT condone the use of child or forced labour, and human trafficking.
All suppliers are required to ensure that all reasonable efforts are employed to eliminate child labour, forced labour, the exploitation of workers and/or deceptive practices in the recruitment of workers both in their own operations, in their supplying factories and in their own supply chains, including raw materials producers.
Under no circumstances should workers be required to pay fees or leave deposits to gain employment.  Where Garment Solutions Pty Ltd becomes aware of child or forced labor, or human trafficking in the supply chain, the Supplier must implement a Remediation Plan if requested Garment Solutions Pty Ltd at its discretion which is in the best interest of the worker(s) concerned.
This Plan must be developed in consultation with the Garment Solutions Pty Ltd Manager, who will also oversee implementation, but the Supplier will be responsible for any costs associated with its implementation. Suppliers must ensure the structural safety of their facilities and ensure no unsafe buildings are inhabited. Suppliers must also ensure that an Emergency Management Plan and a Workplace Safety Management System (as outlined in the Appendix) is in place and adequately communicated to their own operations and supplying factories.
COMPLIANCE WITH THIS CODE
This factory must have in place formal policies and systems
that align and comply with the supplier commitments outlined above. 
Garment Solutions Pty Ltd, reserve the right to conduct their own audits with or without notice and shall be unrestricted and may include off-site worker interviews. 
BREACHES OF THIS CODE
Potential breaches of this code can be reported to Garment Solutions Pty Ltd via email to angela@garmentsolutions.com.au.
Any grievances or disputes in relation to the code may be reported in the same manner. These reports can be made anonymously and can be made directly by workers or by this factory on behalf of workers by any stakeholder.
In the event that Garment Solutions Pty Ltd becomes aware of a breach of this Code, the company reserves the right, at its sole discretion, to request information or evidence and take a range of remedial actions. These actions may initially include the requirement for the Garment Solutions to develop and implement a Corrective Action Plan.
In the event of serious breaches of the code or non-compliance over an extended period, remedial actions may include the cancellation of orders and the termination of the business relationship, with public disclosure of the breach and the remedial actions pursued by Garment Solutions Pty Ltd.
APPENDIX - ETI BASE CODE
1. Employment is freely chosen.
1.1 There is no forced, bonded or involuntary prison labour.
1.2 Workers are not required to lodge deposits or their identity papers with their employer and are free to leave their employer after reasonable notice. Freedom of association and the right to collective bargaining are respected
2. Worker Rights
2.1 Workers, without distinction, have the right to join or form trade unions of their own choosing and to bargain collectively.
2.2 The employer adopts an open attitude towards the activities of trade unions and their organizational activities.
2.3 Workers representatives are not discriminated against and have access to carry out their representative functions in the workplace.
2.4  Where the right to freedom of association and collective bargaining is restricted under law, the employer facilitates, and does not hinder, the development of parallel means for independent and free association and bargaining.
3. Workers and Workplace Safety
3.1  Working conditions are safe and hygienic. A safe and hygienic working environment shall
be provided, bearing in mind the prevailing knowledge of the industry and of any specific hazards. Adequate steps shall be taken to prevent accidents and injury to health arising out of, associated with, or occurring in the course of work, by minimizing, so far as is reasonably practicable, the causes of hazards inherent in the working environment.
3.2  Workers shall receive regular and recorded health and safety training, and such training shall be repeated for new or reassigned workers.
3.3  Access to clean toilet facilities and to potable water, and, if appropriate, sanitary facilities for food storage shall be provided.
 3.4 Accommodation, where provided, shall be clean, safe, and meet the basic needs of the workers.
 3.5  The company observing the code shall assign responsibility for health and safety to a senior management representative.
4. No Child Labour
4.1 Child labour is not used. There shall be no new recruitment of child labor.
4.2  Companies shall develop or participate in and contribute to policies and programmes which provide for the transition of any
child found to be performing child labor to enable her or him to attend and remain in quality education until no longer a child.
4.3  Children and young persons under 18 shall not be employed at night or in hazardous conditions.
4.4  These policies and procedures shall conform to the provisions of the relevant ILO standards. Definitions in relation to Child Labour Child Labour   Any work by a child or young person, which does not comply with the provisions of the relevant ILO standards, and any work that is likely to interfere with that person's  education, or to be harmful to that person's
health or mental, spiritual, moral or social development.  Child (or Children) A person under the age of 15, or below the age at which school attendance is not compulsory under local law, whichever is older.  Young Person  A person under the age of 18 but not classified as a child.
5. Reward Rate Wages
5.1 Living wages are paid. Wages and benefits paid for a standard working week meet, at a minimum, national legal standards or industry benchmarks, whichever is higher. In any event wages should be enough to meet basic needs and to provide some discretionary income.
5.2  All workers shall be provided with written and understandable information about their employment conditions in respect to wages before they enter employment and about the particulars of their wages for the pay period concerned each time that they are paid.
5.3  Deductions from wages as a disciplinary measure shall not be permitted nor shall any deductions from wages not provided for by national law be permitted without the expressed permission of the worker concerned. All disciplinary measures should be recorded.
6. Working Hours
6.1 Working hours are not
excessive. Working hours comply with national laws and benchmark industry standards, whichever affords greater protection.
6.2  In any event, workers shall not on a regular basis be required to work in excess of 4 hours per week and shall be provided with at least one day off for every 7 day period on average. Overtime shall be voluntary, shall not exceed hours per week, shall not be demanded on a regular basis and shall always be compensated at  a premium rate. No discrimination is practiced
7. No Discrimination
7.1 There is no discrimination in hiring, compensation, access to training, promotion, termination or retirement based on race, caste, national origin, religion, age, disability, gender, marital status, sexual orientation, union membership or political affiliation.
8. Employment Rules and Laws
8.1 Regular employment is provided to every extent possible work performed must be on the basis of recognized employment relationship established through national law and practice.
8.2 Obligations to employees under labour or social security laws and regulations arising from the regular employment relationship shall not be avoided through the use of labour-only contracting, subcontracting, or home-working arrangements, or through apprenticeship schemes where there is no real intent to impart skills or provide regular employment, nor shall any such obligations be avoided through the excessive use of fixed-term contracts of employment.
9. Treatment in Workplace
9.1  No harsh or inhumane treatment is used. Physical abuse or discipline, the threat of physical abuse, sexual or other harassment and verbal abuse or other forms of intimidation shall be prohibited. 
SAFETY AND WELFARE OF WORKERS
In addition to the provisions outlined in Item 3 of the ETI Base Code, suppliers must develop, implement and communicate appropriate safety and welfare workplace procedures, as outlined below.
Emergency Management Plan:
An Emergency Management Plan aims to ensure the safe, orderly and timely evacuation of workers in the event of an emergency. All workers must have easy and safe access to emergency exits and stairways, which should be clearly marked, unlocked and free of obstructions.
Evacuation drills must be conducted an a regular basis, with trained supervisors designated to locations through the facility to ensure the safe, orderly and timely evacuation of workers. Fire extinguishers and/or fire hoses must be provided and must be inspected regularly to ensure they are in good working order. This plan must communicate that all workers have the right to remove themselves from imminent danger without first seeking permission.
Workplace Safety Management System:
A Workplace Safety Management System aims to manage any residual risks in the work environment. It should include a Workplace Safety Policy, an Injury Management and Return-to-Work Policy, Job Safety Assessments, Safe Work Method Statements and a Safety Information Management System.
Personal Protection Equipment (PPE)
PPE must be provided for each task and must be available, at no cost, for workers. This includes protective eye wear, protective footwear, hearing protection, gloves, masks, hard hats and insulated clothing. This system should be governed by a Workplace Safety Policy, which should be signed and managed by a senior management representative. This policy must be displayed on premises
Want to find out more about our ethical standards?
Get in touch with our team today!
Fill out the contact form below or call us on +61 405 405 022 to begin your journey.